S06E17 - Off To Be The Wizard
Guests: Sherry D. Ramsay, Scott Meyer and Tony Gemignani
5 years ago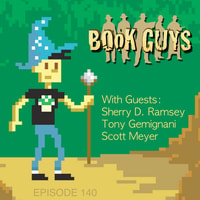 Sherry D. Ramsey joins us to talk about her wonderful Sci-Fi novels, Scott Meyer talks to us about his Magic 2.0 series and World Champion Pizza Maker Tony Gemignani stops by to talk about Pizza Pies and his new book The Pizza Bible!
Hosts: Craig Damlo, Paul Alves, Sir Jimmy
Visit us at http://www.bookguys.ca
Sherry D. Ramsey can be found at http://www.sherrydramsey.com and on Twitter at http://www.twitter.com/sdramsey
BOOKS DISCUSSED THIS EPISODE:
One's Aspect To The Sun by Sherry D. Ramsey
White Cat by Holly Black
The Pizza Bible by Tony GemignaniOff To Be The Wizard by Scott Meyer
More show notes will be added to this section soon. Delete and re-download this episode to refresh the show notes.
* An earlier release of this episode contained editing errors. They have been fixed.
Our 140th episode was published on October 16 2016.
Find out more at https://bookguys.pinecast.co
Send us your feedback online: https://pinecast.com/feedback/bookguys/00ce0d39-f6ac-4938-91ba-498f32e192f8